Eminem and Kurtis Blow sue El Chombo
Posted on April 1, 2010 by Kris Nelson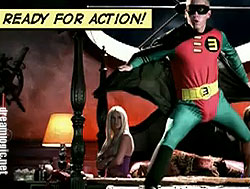 **** APRIL FOOLS!
Remember 'Macarron Chaccaron'? Apparently El Chombo was planning on writing actual lyrics, but everyone loved his mumbly demo so much, he kept it. And it made it to #20 on the UK singles chart. This is probably why you can catch him chuckling throughout the sloppily edited track.
When it circulated YouTube, it quickly incited foul comments from folks attempting to decipher the "lyrics" in their own racist way. Let's just say they heard something about an African descendant in the highway.
When I first heard it, I thought it sounded a lot like the chorus for Eminem's 'Without Me'. I know I definitely heard 'The Breaks' by Kurtis Blow in the choppiest verse switch I've ever heard. But that adds to the odd charm of the tune, don't ya think?